NON-PARTISAN JUDICIAL RUN-OFF ELECTION
will be held in Madison County, AR

November 3, 2020


Check your voter registration status, absentee ballot status, polling locations, and view sample ballots here
voterview.org

For information on the Arkansas ballot issues click below:
https://www.uaex.edu/business-communities/voter-education/state-ballot-issues.aspx

Watch a video demonstration of the new voting equipment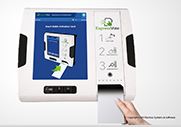 ABSENTEE VOTING
To download an absentee ballot application, please click on the link below:

IN-PERSON EARLY VOTING
In-person Early Voting is currently underway at the Madison County Courthouse.
The Courthouse lobby will be open for VOTING PURPOSES ONLY.
County offices are currently closed to public entry.
All other business with county offices must still be conducted by phone or other remote means.

Early Voting Dates and Times are as follows:
October 26th - October 31st

Hours: 8:00 am to 6:00 pm, Monday - Friday

10:00 am to 4:00 pm Saturday


Last Day to Early Vote: Monday, November 2nd

Hours: 8:00 am to
5:00 pm
Voters must enter through the main entrance (north door) and exit through the west door.

Voter access inside the Courthouse will be limited to the number of ExpressVote ballot marking devices and voter check-in stations available.

Voters must wait outside the building until a station becomes available.
A poll worker will admit voters inside the building.


Voters should plan ahead for any potential inclement weather.

Due to COVID-19, social distancing will be required inside the building and in line outside of the Courthouse during Early Voting.

Voters who reside in the same household may stand together in line.

Voters are strongly encouraged to wear a mask or face covering to the polls to protect their health and out of the respect for the health of others.
Voters who have a physical, sensory, or other disability and who inform a poll worker that they are unable to stand in line for extended periods of time are entitled to and shall be assisted by a poll worker to advance to the head of the line of voters then waiting in line to vote.

Voters are strongly encouraged to have their ballot choices made BEFORE they head to the polls to vote. This will save voters time at the polls and will keep the voting lines moving as quickly as possible.


Sample Ballots and Ballot Measure Information may be viewed by clicking on the links at the top of this page.

Voters should have their Photo ID out of their purse or wallet and ready to present to poll workers before entering the building.

Voters will be asked to place their Photo ID on the voter check-in desk where poll workers may observe it without the need to handle it.

Voters will be given a disposable stylus (or nitrile finger cot) to sign the poll book and make their ballot selections on the ExpressVote ballot marking device, so that voters will not have to touch any voting equipment surfaces.

Receptacles to recycle the disposable styluses will be placed at the voter exit.


All poll workers will be wearing PPE.

Poll workers will regularly sanitize all frequently touched surfaces inside and outside of the polling place.

Hand sanitizer will be available at the voter entrance and exit.

Voters should immediately exit the building after voting.

ELECTION DAY VOTING
Polls will be open for voting on Election Day (November 3rd) from 7:30 am - 7:30 pm.
Voters are no longer required to vote at an assigned polling location. Voters may cast their ballot at ANY of the five (5) vote centers listed below:
Hindsville First Baptist Church - 4359 S Main St, Hindsville, AR 72738
Huntsville Missionary Baptist Church - 5602 Business Highway 412, Huntsville, AR 72740
Kingston Community Building - 219 Madison 3000, Kingston, AR 72742
St. Paul Community Building - 371 Madison Ave, St. Paul, AR 72760
Wesley Community Building - 1648 Highway 74, Wesley, AR 72773
NEW VOTING EQUIPMENT INFORMATION