Madison County Elections
Check your voter registration status, polling locations, and view sample ballots here
www.voterview.ar-nova.org/voterview
Click Here for Information on Arkansas Ballot Issues & Initiatives
Watch a video demonstration of the new voting equipment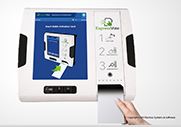 VOTING OPTIONS
VOTE ON ELECTION DAY
Registered voters in Madison County may vote at any Vote Center location listed below from 7:30 am - 7:30 pm on Election Day, regardless of their assigned precinct.
Hindsville First Baptist Church.............................4359 S Main St, Hindsville, AR 72738
Huntsville Missionary Baptist Church...................5602 Business Hwy 412, Huntsville, AR 72740
Kingston Community Building.............................219 Madison 3000, Kingston, AR 72742
St. Paul Community Building..............................371 Madison Ave, St. Paul, AR 72760
Wesley Community Building...............................1648 Hwy 74, Wesley, AR 72773
VOTE EARLY
Early voting is available to any registered voter in Madison County prior to each election at the following location.
Madison County Courthouse..................201 W Main St, Huntsville, AR 72740
Early voting begins 15 days before any Preferential Primary or General Election

Hours: 8:00 am - 6:00 pm Monday - Friday and 10:00 am - 4:00 pm Saturday

Early voting ends at 5:00 pm on the Monday before Election Day

Early voting for Special Elections or School Elections will be 8:00 am - 4:30 pm Monday - Friday

Early voting is not available on state holidays.
VOTE ABSENTEE
You may vote by absentee ballot if one of the following statements apply to you:
You will be unavoidably absent from your polling site on Election Day,

You will be unable to attend the polls on Election Day because of illness or physical disability,

You reside in a long-term care or residential facility licensed by the state,

You are a member of the Uniformed Services, merchant marines, or the spouse or a dependent family member, and are away from your polling location due to the member's active duty status, OR

You are a U.S. citizen whose residence is in Arkansas but is temporarily living outside the territorial limits of the United States.
You may return your Absentee Ballot Application:
In-Person: close of business the day BEFORE the election

By Designated Bearer or Administrator:

close of business the day BEFORE the election (A Designated Bearer is anyone you choose to pick up or deliver your ballot)
By Mail or Electronic Means: 7 days before the election
By Authorized Agent: 1:30 pm ON election day (The authorized agent must file with the County Clerk an affidavit from the administrative head of a hospital or nursing home located in this state verifying that the applicant is a patient of the hospital or nursing home and is thereby unable to vote on election day at their regular polling site)
Deadline for Ballot Pickup:
By Designated Bearers: no earlier than 15 days before a Preferential Primary Election, General Election, School Election, or Special Election and no earlier than 7 days before a Runoff Election.
Deadline for Delivery of Voted Ballot to the County Clerk:
In Person: close of business the day BEFORE the election
By Designated Bearer: 7:30 pm on Election Day
By Mail: must be received in the County Clerk's office by 7:30 pm on Election Day (UOCAVA voters must vote their ballot by Election Day. The County Clerk's office must receive it by 5:00 pm 10 days after the election.)

By Authorized Agent:

7:30 pm on Election Day